Home Survival Essentials Package
You may think your skin is safe just because you're not exposed to environmental pollutants and direct sunlight, but that's not entirely accurate. The blue light from screens, whether a computer screen, TV or phone screen, strips our skin of moisture and does considerable damage. The Home Survival Essentials Package includes products that strengthen your skin's natural moisture barrier, provide a much-needed infusion of hyaluronic acid and peptides, and protect your skin from your electronic devices. Consequently, it ensures you have well-hydrated, supple, and smooth skin while minimizing fine lines and wrinkles.
Includes:
EltaMD Foaming Cleanser - $32
EltaMD Clear Sunscreen - $41
EltaMD PM Therapy - $41
Regular Price - $114
Discount Price - $94 (Save $20)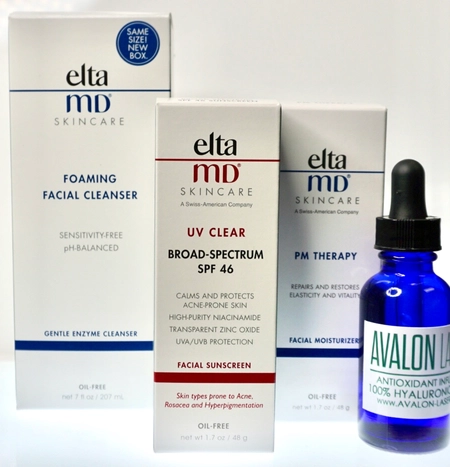 Anti-Aging Package
We can't stop the aging process, but we can protect our skin from its ill-effects. As you age, your body's ability to produce collagen, elastin and hyaluronic acid significantly decrease. These components are the youthful frontiers of your skin; they make your skin look smooth, supple, voluminous and vibrant. As your body stops producing these components, you start looking gaunt, develop wrinkles, and your skin starts sagging. The Anti-Aging Package targets the root cause of aging by building up your body's hyaluronic acid and collagen reserves, leading to firmer skin with minimal wrinkles and fine lines. The package also includes gentle exfoliating cleansers that activate your body's natural healing response to shed the dead skin cells, replacing them with new and healthy skin cells, making you look instantly younger.
Includes:
SkinMedica AHA/BHA Exfoliating Cleanser - $48
SkinMedicaTNS Essentials Serum - $295
SkinMedica Retinol Complex 0.5 - $80
EltaMD Clear Sunscreen - $41
Regular Price - $464
Discount Price - $395 (Save $69)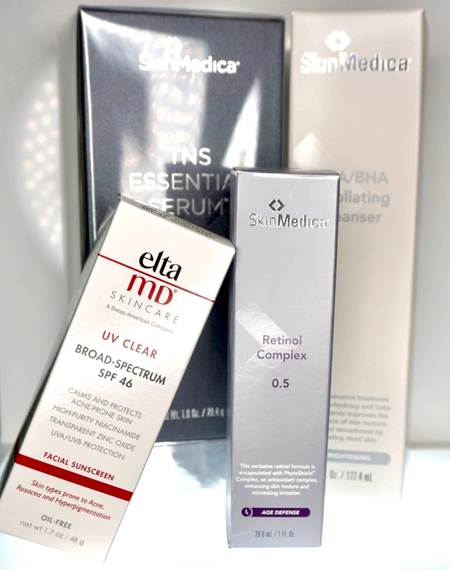 Anti-Acne Treatment Package
There are several possible causes for acne, such as excess oil production, bacteria, excess hormones, or hair follicles clogged by dead skin cells. The Anti-Acne Treatment Package addresses all of those potential causes, leaving you with clear skin. The purifying cleanser unclogs your pores, and eliminates dead skin cells, while the acne serum regulates oil production, collectively addressing all the potential causes of acne. Finally, our package includes a moisturizer that infuses your skin with the healing effects of hyaluronic acid, a naturally-occurring gel-like substance that adds volume to your face and binds moisture, hydrating your skin. The treatment package ensures you have acne-free skin, but without stripping your skin of all its essential nutrients.
Includes:
SkinMedica AHA/BHA Purifying Cleanser - $48
Tirgari MD Acne Serum - $99
SkinMedica HA Moisturizer - $184
Regular Price - $331
Discount Price - $282 (Save $49)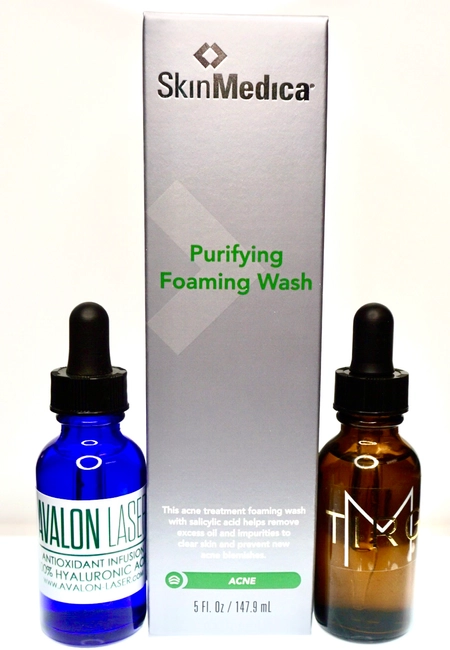 Facial In A Box Package
The Facial in a Box Package has everything you need for complete detox and a rejuvenating facial. It simultaneously eliminates harmful toxins while invigorating your skin with essential nutrients. The package includes a foaming cleanser that eliminates harmful toxins, dead skin cells, and oil, while the AM and PM therapy formulations strengthen your skin's natural moisture barrier. Finally, the collagen face mask encourages your skin to produce collagen, which, in turn, makes your skin look firm, voluminous, and vibrant. The entire package strengthens and cleanses your skin, leaving it aglow.
Includes:
EltaMD Foaming Cleanser - $32
EltaMD AM Therapy - $41
Clinical Resolution Collagen Mask - $20
EltaMD PM Therapy - $41
Regular Price - $134
Discount Price - $114 (Save $20)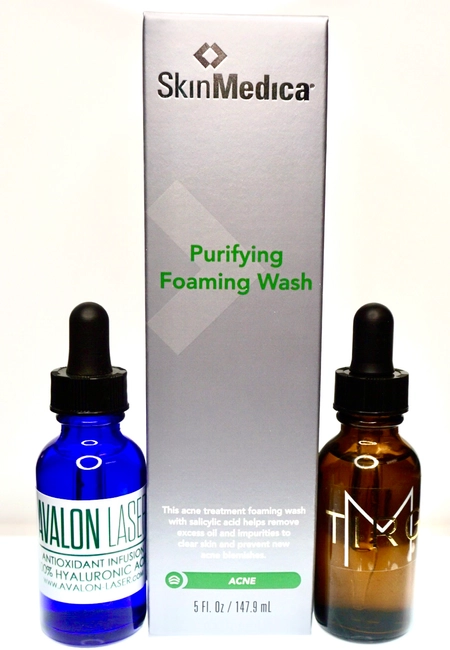 Accessibility:
If you are vision-impaired or have some other impairment covered by the Americans with Disabilities Act or a similar law, and you wish to discuss potential accommodations related to using this website, please contact our Accessibility Manager at
760-891-5353
.